Tuesday, October 15th, 2019...11:14am
October 2019 Newsletter
Jump to Comments
Hello from your Anthropology Students' Association!
Special thanks to Max Friesen for presenting at our graduate school seminar and to those who came out!
1. ASA Pub Night
Hang out with the ASA and munch down free food at our Pub Night at the East of Brunswick on October 18th, 8-11pm!
2. Halloween Bake sale
Come join us for a bake sale Thursday October 31st in the lobby of AP! We'll have lots of spooky treat. Proceeds will be going to TBD.
Your ASA execsSocial Media LinksFacebook Page: https://www.facebook.com/groups/UoTASA/
Instagram: https://www.instagram.com/utorontoasa/
Twitter: https://twitter.com/utorontoasa?lang=en
Website: http://anthro.sa.utoronto.ca
February 6th, 2018Leave a commentEdit"February 2018 Newsletter"
Hello fellow anthropology students!We hope January treated you all well and that you're ready for a jam-packed February in the department. Here are some things to keep an eye out for:1. Field School Seminar – Wed Feb 7, 4-6pm, room AP140Come learn about opportunities to get experience in the field from across the three disciplines (archaeology, bio/evolutionary. and socio-cultural). Special guest Dr. Laura Bolt will be speaking about her primatology field school in Costa Rica and her work on spider monkeys there. There will also be information on field schools in general and how they operate at U of T and elsewhere! Free pizza for all attendees!Anthropology Field School InformationGRAPE: Archaeology in Georgia2. Anthropology Careers Beyond Academia – Fri Feb 9, 12-2pm, room AP246This professionalization workshop will feature speakers with anthropology training across sub-disciplines sharing their experiences in having careers outside universities. Come learn from them and understand the breadth of opportunities out there for anthro graduates!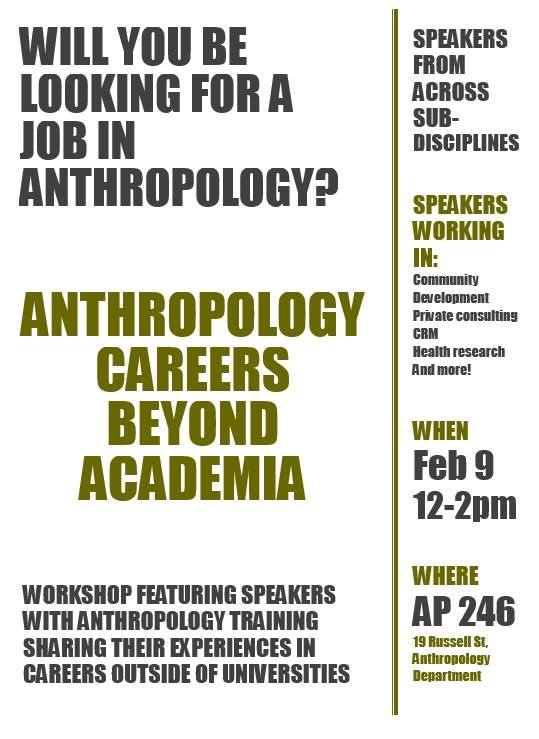 3. Vitality in Death: Automummification in Japanese Buddhism – Mon Feb 12, 12-2pm, room TBAThis semester's academic seminar will be focusing on the socio-cultural anthropology work of graduate student Shane Dawl, who will present his work on Buddha mummies in northern Japan. He will also be showing his own short film on this topic and there will be free food for attendees!4. Valentine's Day Bake Sale – Wed Feb 14, 9-5, department lobbySatisfy your sweet tooth with baking made by your very own ASA execs. Drop by the table at any time during the day to scout out the selection – return visits are always welcome!Proceeds go to the ASA so we can continue holding awesome events!5. Games night – time/date TBAJoin the ASA after reading week to unwind with some fun board games before the exam season hits.That's it for now, folks. As always, feel free to drop by the office or reach out to us on social media with any questions, concerns, or comments! Looking forward to seeing your lovely faces at events this month (which, by the way, all have lots of free food….)<3 Your ASA execs <3Social Media LinksFacebook Page: https://www.facebook.com/groups/UoTASA/Instagram: https://www.instagram.com/utorontoasa/Twitter: https://twitter.com/utorontoasa?lang=en